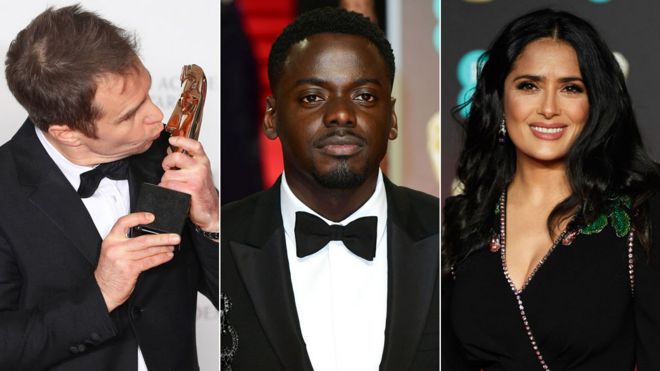 Three Billboards was the big winner at the Baftas on Sunday evening.
It picked up some of the night's top prizes – including best film, best British film and best actress (for Frances McDormand).
Meanwhile, stars showed their support for the Time's Up campaign by wearing black on the carpet and pin badges highlighting the cause.
Sam Rockwell, McDormand and Lee Unkrich used their winner's speeches to highlight issues of diversity and equality in the industry.
Here are seven memorable moments from the Bafta Film Awards 2018.
---
1. It was Daniel Kaluuya's night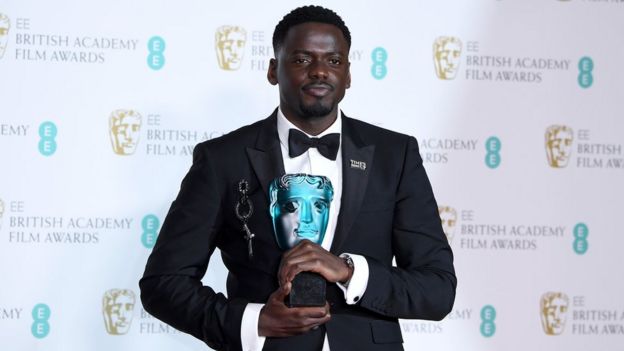 There's only one thing we all really want to know about the Baftas: what would that trophy look like if you dipped it in some bright blue hair dye?
Fortunately, the EE Rising Star prize means we no longer have to imagine.
Get Out star Daniel Kaluuya was the winner of the prize this year – the only Bafta to be voted for by the public – and he looked genuinely surprised.
"My mum is the reason why I started, the reason why I'm here and the reason why I keep going," he said as he accepted the award.
He went blank at one point during his speech, but speaking backstage also remembered to thank Top Boy's Ashley Walters.
"I want to say to Ashley thanks for leading and inspiring me, he has made it all possible," he said.
Kaluuya was inspired by seeing Walters on screen as he had come from a similar background.
He also said "levels" about 20 times during his speech, giving the Baftas a much-needed dose of London slang.
---
2. Frances McDormand refusing to comply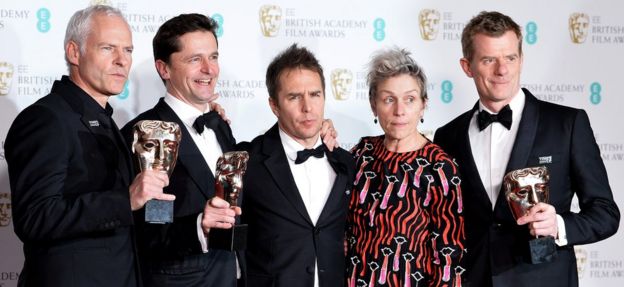 In a fairly non-eventful ceremony, we're going to go ahead and say that Frances McDormand's speech certainly stood out.
"Thank you British film people," the actress said as she took to the stage to accept the prize for leading actress.
The star of Three Billboards Outside Ebbing, Missouri was one of the very few stars who didn't wear black on the red carpet, unlike many others who did so in support of the #MeToo movement.
"As Martin [McDonagh] said, I have a little trouble with compliance," she said, pointing to her dress.
"But I want you to know I stand in full solidarity with my sisters tonight in black. I also want to say that I appreciate a well-organised act of civil disobedience."
She then referred to the way political campaigners had taken the concept of the film and used it to help their causes – such as this week's stunt where three billboards demanding justice following the Grenfell Tower fire were driven through London.
"I'm thrilled that activists all over the world have been inspired by the set decoration of Three Billboards in Martin's film and have taken to the streets and let it be a part of the positive public discourse that's happening," McDormand said.
---
3. The general brilliance of Salma Hayek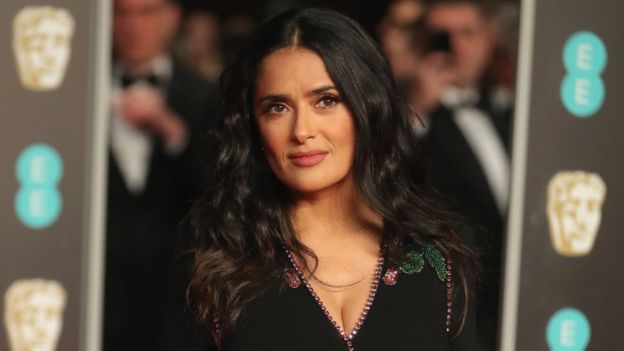 You're always in for a fun night when Salma Hayek is around – as anyone who's ever seen one of her memorable appearances on Graham Norton will know.
"In this very important and historical year for women, I am here on this legendary stage to celebrate men," the actress said to laughs and cheers from the audience as she introduced the best actor category.
But she wasn't done being playful.
She introduced the nominees – Daniel Day-Lewis, Daniel Kaluuya, Jamie Bell, Timothee Chalamet and the eventual winner Gary Oldman.
But, as she opened the envelope, she said: "And the winner is… Frances McDormand," in an utterly brilliant reference to last year's best picture mishap at the Oscars.
After the initial gasp from the audience, she said "Nahh, just kidding! The Bafta goes to Gary Oldman."
---
4. Timothee Chalamet wins (more) hearts…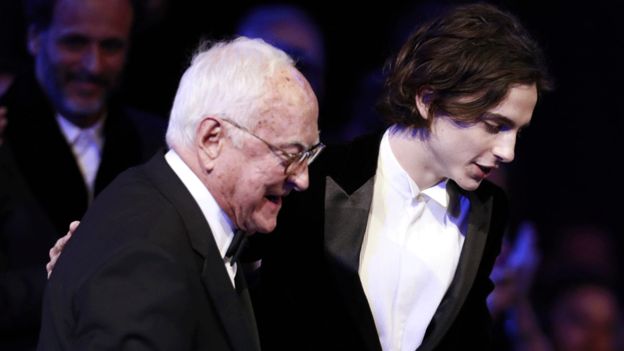 Timothee Chalamet added another million to his fanbase by showing his gallantry when he helped James Ivory onstage to accept his award.
The heart-warming moment happened when Ivory – who is 89 – won the best adapted screenplay for Call Me By Your Name, starring Chalamet.
The filmmaker – best known for his work with Merchant Ivory – had never been nominated for a writing Bafta before, having largely focused on directing throughout his career with films such as Howard's End, The Remains of the Day and Room with a View.
5. Once, twice, three times a Lumley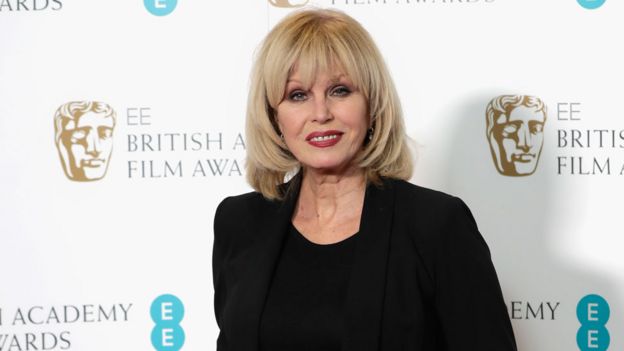 In awards shows, the host's opening monologue can often be more interesting and juicy than the awards themselves.
Think of the cutting speeches of Seth Meyers, Ricky Gervais and Tina Fey and Amy Poelher at the Golden Globes, or Ellen and Jimmy Kimmel's recent hosting of the Oscars.
This was Lumley's first year as host of the Baftas – she took over from Stephen Fry, who has fronted the ceremony 12 times in total.
Some of her high points:
"Quite how Hugh Grant managed to portray a vain and egotistical actor in Paddington 2 is beyond me, it was remarkable stuff."
"In some of Get Out's most memorable moments, Daniel Kaluuya is controlled by other people and trapped in a chair powerless to move. A skill that will come in handy tonight because I'm afraid to say no-one gets a comfort break until we're done here."
"Oh dear, they've left the envelope. We don't want any mix-ups later. Could somebody come and take this please?"
"In one sense, you're all winners tonight. But in another sense, if you believe that, you'll believe anything."
---
6. Allison Janney is going to need a bigger trophy cabinet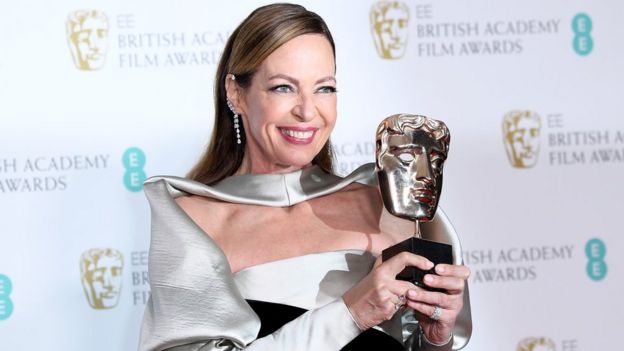 Allison Janney won best supporting actress for her role as LaVona Golden in I, Tonya – having already picked up the same prize at the Golden Globes next month.
She played Tonya Harding's mother in the film – a role she felt well-suited to as she did figure skating growing up.
Janney is much loved for playing CJ in The West Wing, but equally has enjoyed her time on the silver screen too.
Speaking in the press room, she commented on her versatility as an actress and said she approaches whatever role, whether film or TV, in the same way:
"I think of every role as neither comedy or drama, I look for the truth in the imaginary circumstances and the messier the role the better!"
---
7. What the winners might mean for the Oscars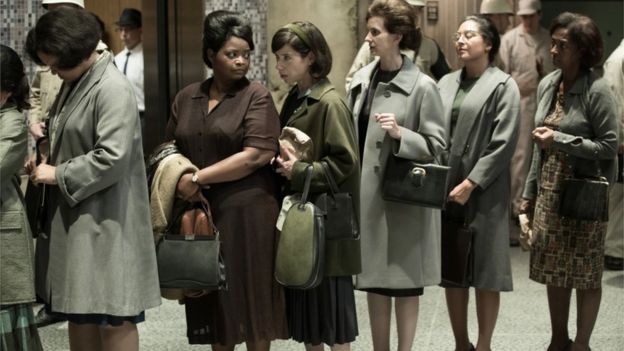 So with the Golden Globes and the Baftas out the way for another year, awards season is now firmly rattling awards the Oscars next month – the biggest night in the Hollywood calendar.
There were no big surprises at this year's Baftas and the bookies were pretty much spot on with the odds that saw Three Billboards take five awards and The Shape of Water three.
Whilst its now even more likely that Sam Rockwell and Allison Janney will walk away with the supporting gongs and Frances McDormand and Gary Oldman for lead, it could be a different story for the big one – best film.
Three Billboards' British background may have helped influence the decision for it to receive the big prize at the Baftas, so could it be pipped to the post at the Oscars?
Its lack of a nomination in the best director category at the Oscars dented some of the momentum the film had been picking up – and it also faces tough competition from Get Out and The Shape of Water, which have been huge hits at the US box office.
This year's Oscars take place on 4 March, so we don't have long until we find out.
source:-BBC