Hi there! I'm Maura — Maura55 on Twitch and @mauragcr on Twitter — and I'm bringing you the Day 2 wrap-up from the Snapdragon Tech Summit.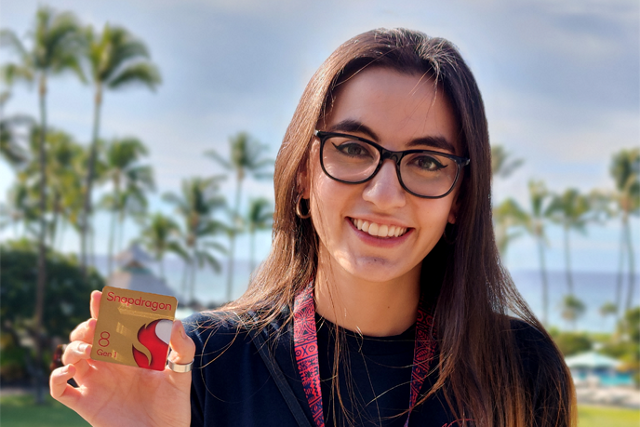 Started today off with this gorgeous backdrop. You had me at Aloha, Hawaii!
After breakfast, we spent some time editing our photos for the #ShotOnSnapdragon contest, and submitted our final selects for voting. There's still time to vote, Snapdragon Insiders! Go to @Snapdragon on Twitter, check out the pics, and vote for your favorite. Here's one of my favorite pics from yesterday…
We got a sneak preview of the new Snapdragon premium platform for laptops — Snapdragon 8cx Gen 3 Compute Platform. In a nutshell: extreme performance, speed, and efficiency along with support for multi-day battery life, AI-accelerated features, and lightning-fast 5G connectivity.
Though the majority of the oohs and ahhs came with the surprise announcement of the new Snapdragon G3x Gen 1 Gaming Platform and Snapdragon G3x Handheld Developer Kit. Top-tier specs for the ultimate gaming experience on a device that can play console games, PC games, and cloud games all through streaming as well as your favorite Android games. Sign me up!
A little AirDerby 2 competition ensued. Got to watch some stellar gameplay from Enobong (@booredatwork).
After lunch wrapped up, we all headed to the Day 2 keynote where the new compute and gaming platforms were officially announced.
One of the coolest parts of the day — the Snapdragon Insiders, participated in a Q&A with Qualcomm President and CEO Cristiano Amon. My favorite part was when Cristiano stayed with us to take questions directly from Snapdragon Insiders, and we even got a photo opportunity!
That was followed by some one-on-one time with the tech experts who handle key technology areas for Qualcomm Technologies — Judd Heape and Ziad Ashgar covered camera and AI, Dave Durnil and Patrick Perkins tackled gaming, and Sarah McMurray and James Chapman briefed us on audio.
Quick change, and then we all headed off to dinner with Senior Vice President and CMO Don McGuire.
Truly an amazing day — jam packed with lots of info and really cool people. Psyched for tomorrow!
["source=qualcomm"]