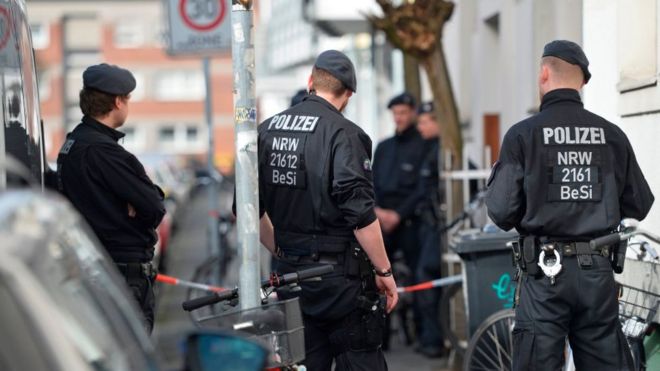 Authorities have searched four homes associated with the suspect, and said they have found "no clues" pointing to an extremist or political motive.
Two people were killed when a van was driven into a restaurant terrace area of the west German city on Saturday.
The 48-year-old driver shot and killed himself after hitting diners.
He has been identified in German media as Jens R – prosecutors say he was known to police.
In 2015 and 2016, he had faced allegations of making threats, damaging property, a hit-and-run traffic accident and fraud, all of which were dropped.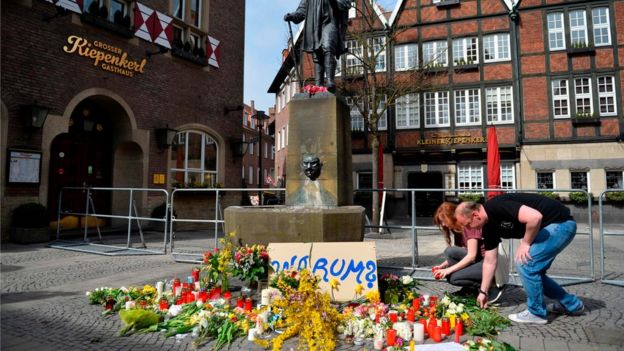 "The person in focus had [psychological] abnormalities" that needed careful investigation, regional interior minister Herbert Reul said after placing flowers at the scene of the attack.
He said there was no evidence linking the suspect to Islamist militancy, and that he was not a refugee.
How Germany van incident unfolded online
"We are assuming the motives and origins [of the crime] lie within the perpetrator himself," Hajo Kuhlisch, chief of local police told reporters.
The victims were a 51-year-old woman from near Lueneburg, in the north of the country, and a 65-year-old man from Borken, near Muenster. Some 20 others were injured.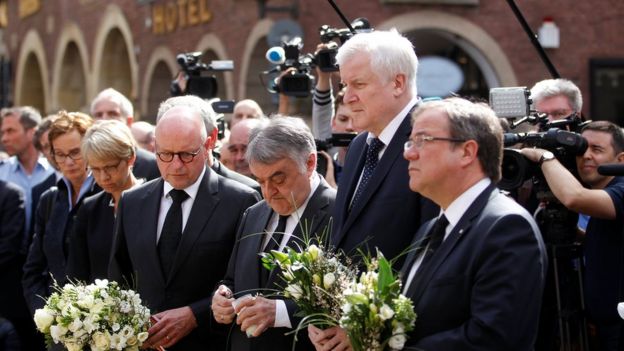 What else do we know about the perpetrator?
"We now know it was in all likelihood a lone perpetrator, a German," Mr Reul said.
Prosecutors said there had been three criminal proceedings against him in Muenster, and one in the city of Ansbach dating back to 2015 and 2016.
"We have no indications of a politically motivated background [for the crime]", senior prosecutor Elke Adomeit said.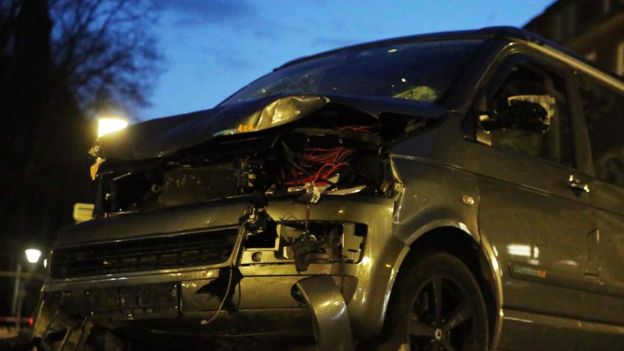 Although officials have provided few details, the German newspaper Frankfurter Allgemeine Zeitung reported that the man lived just 2km (1.2 miles) from the restaurant.
How did the incident unfold?
A vehicle, reportedly a grey VW van, was driven into a tourist square in the 300,000-population city at 15:27 local time (13:27 GMT) on Saturday.
Eyewitnesses said it was driven at speed and photographs of the aftermath showed tables and chairs strewn across a restaurant terrace area.
A bang was heard and people screamed, one cafe employee told local media.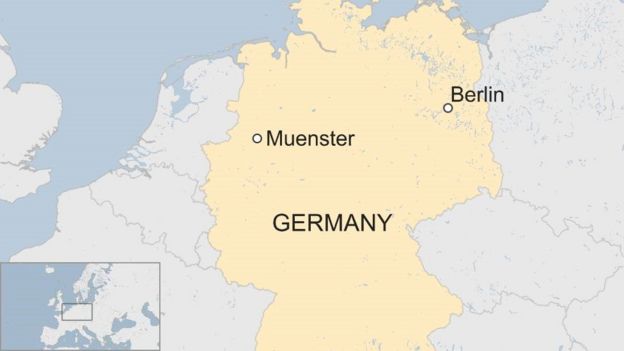 Daniel Kollenberg, who witnessed the aftermath, told the BBC: "I think it is a deliberate attack because it's not allowed for cars to go in this area."
Chancellor Angela Merkel said in a statement that she was "deeply shaken" by the incident.
"Everything possible is now being done to clarify the facts and to support the victims and their relatives," she said.
French President Emmanuel Macron tweeted in French and German, saying his country was suffering with Germany.
source:-bbc