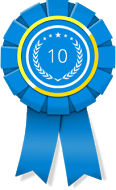 10 Best Design recently announced a new monthly award to recognize New York's Best Web Design Firm. For May 2018, a total of 12 firms have been recognized for their efforts, with Ruckus Marketing leading the list.
Unsurprisingly, New York contains dozens upon dozens of website design firms. Most of them provide quality services to clients in need. A handful of these firms go above and beyond, providing an unparalleled experience for clients. Here is a quick overview of the top three firms recognized for the month of May by 10 Best Design.
As its name suggests, Ruckus prefers to disrupt industries rather than conform to norms. Few top New York City web development agencies can stand up to a digital firm like Ruckus because it specializes in one particular area. Both designers and developers work together to refresh stale websites or build new ones from scratch. When a client signs up with Ruckus, they help ensure their long-term success with a powerful ally. Typically, Ruckus partners with its clients through a long-term relationship filled with results and growth.
Blue Fountain Media is a leading web design firm that focuses on increasing a client's web traffic in order to increase conversions. To that end, the firm will either rebuild a client's website or build a brand new one. A talented team powers the efforts of Blue Fountain Media, and clients see an immediate boost to their web traffic. Dozens of large brands and corporations have worked with this firm in the past, seeing incredible results in the process. Few web design teams are trusted more than the men and women at Blue Fountain Media.
For top web design firm Jak t, the main goal with web design involves making an impact and improving lives. These experts know how to build a stunning website that looks unique. They take what they know about web design and combine that knowledge with an innovative approach. Jakt works with every business type from startups to large companies. By working with Jakt, businesses acquire the advantage they need to compete in a tough market. Jakt knows how to build websites that give visitors the experience they want and need.
The web design industry trusts the rankings provided by 10 Best Design. Industry experts analyze each design firm and give out awards from there. All of these firms are deserving of recognition as the Best New York City Web Development Agency. The June 2018 results will be released in the coming weeks.
source:_prweb.c