José Manuel Soria denies any wrongdoing after he was named in Panama Papers over connection with Bahamas firm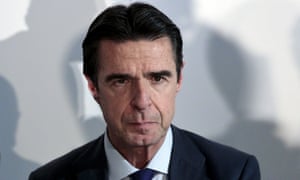 Spain's industry, energy and tourism minister has resigned with immediate effect after alleged links to offshore dealings emerged in the Panama Papers.
José Manuel Soria denied any wrongdoing and said he was stepping down to limit any damage to the conservative People's party (PP) caretaker government, which has been in place since inconclusive national elections in December.
On Monday Soria denied all links to an offshore company in the Bahamas set up by the Panamanian legal firm Mossack Fonseca, after he and his brothers were named as administrators. He also said he had no links to UK Lines, a sister company in Jersey.
It later emerged in separate media reports that he had been president of Jersey Mechanical Trading Ltd, formerly UK Lines, an offshore company that dealt in agricultural produce from the Canary Islands, where he was the local PP leader.
Soria continued to deny having any links with tax havens, but after a Jersey Mechanical document from 2002 bearing his signature was published he decided to stand down.
In his letter of resignation, he wrote: "In the light of the errors committed in recent days in the explanations I gave regarding my business activities before I entered politics in 1995 and the lack of precise information about things that occurred more than 20 years ago … I have informed the [prime minister] of my irrevocable decision to resign." Soria said he would abandon all political activities.
Leaks from Mossack Fonseca have embarrassed several world leaders and shone a spotlight on the shadowy world of offshore companies. Iceland's prime minister, Sigmundur Davíð Gunnlaugsson, stepped down this month after documents linked him to an offshore company.
Soria's resignation is another blow to Mariano Rajoy's government, which has been ruling Spain in a caretaker capacity due to the failure of the four largest parties to reach a coalition agreement. Fresh elections will be held in June if no coalition deal can be agreed in the coming weeks.
This week the former prime minister and party leader José María Aznar wasordered to pay almost €270,000 (£214,000) in fines and back taxes after allegedly billing personal income to his family business. On the same day the PP mayor of Granada was arrested on corruption charges.
Ministerial resignations are rare in Spain and Soria's was only the second since the PP came to power in 2011. In November 2014 the then health minister Ana Mato was forced to step down over corruption investigations.