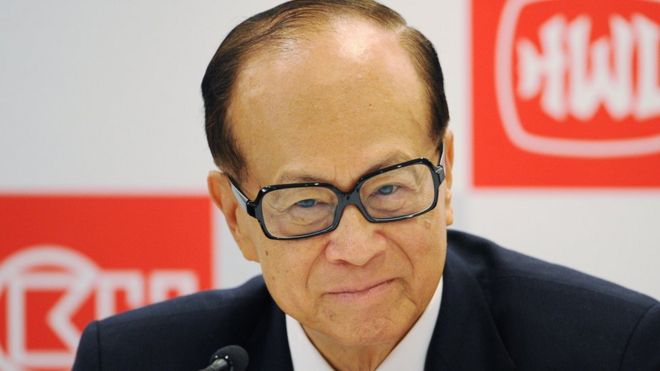 Mr Li, aged 89, whose wealth has been put at $35.3bn (£25.3bn) by Forbes, is handing over the reins to his eldest son, Victor Li.
His CK Hutchison Holdings and CK Asset Holdings groups are involved in sectors including retail, telecoms and power.
The only person in Asia richer than Mr Li, according to Forbes, is India's Mukesh Ambani.
China dominates self-made woman rich list
Trump slumps on Forbes billionaires list
Mr Li, who has a rags-to-riches story after starting work sweeping factory floors as a young boy, was ranked 23rd in the 2018 Forbes rich list.
He was one of the first Hong Kong tycoons to invest in mainland China, with property playing a big part in his wealth.
The billionaire was knighted by the UK in 2000, and earned the nickname "Superman" for his business and investment success.
Philanthropy
Investments and assets held by Mr Li's businesses include:
More than 50 ports in 26 countries throughout Asia, the Middle East, Africa, Europe, the Americas and Australasia
Retail brands including pharmacy chains Watsons in Asia and Superdrug in the UK
Utilities including the UK's Northumbrian Water and Australian Gas Networks
Telecoms including the 3 Group in Europe and Hutchison Telecommunications in Hong Kong
Airline leasing and property companies
Rumours about Mr Li's impending retirement as chairman and executive director at CK Hutchison Holdings and CK Asset Holdings have been circulating for some time.
But he said he would stay on as an adviser for his operations, which stretch across more than 50 countries and employ more than 300,000 people.
His two main companies have a combined market capitalisation of more than $80bn.
Mr Li is well known for his philanthropy and has donated tens of billions of dollars to education and medical projects.
source:-bbc