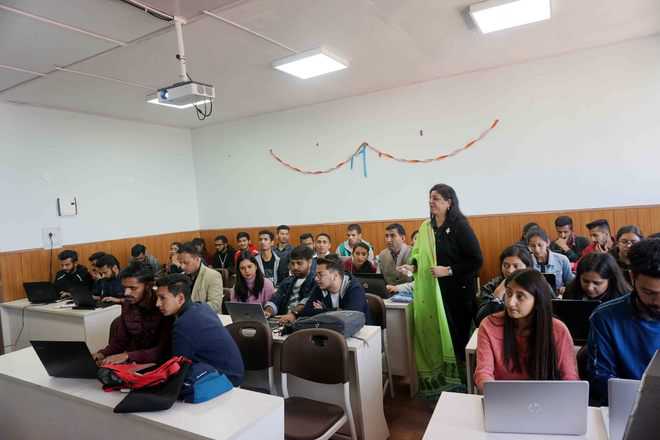 A special lecture on the use of Mendeley software for referencing management by Dr Neha Gulati from the University Business School of Panjab University was organised by the department of inter-disciplinary studies-IIHS, Himachal Pradesh University, for the senior batches of MBA (rural development) and MSc (environment sciences). Director of the department Prof RP Sharma said the software was important for referencing management and available free on the Internet. Mendeley is also an academic social network that enables sharing of research with others. Researchers can collaborate online in public or private groups and search for papers in the Mendeley group database of over 30 million papers. Mendeley can help you connect with other scholars and the latest research in your subject area. "With this software, researchers can collect references from the web and UCI databases, automatically generate citations and bibliographies,  collaborate with other researchers online, import papers from other research software and find relevant papers based on what you're reading," said experts.
Science congress at school
Young scientists of Hamirpur gathered at Government Senior Secondary School, Lambloo, to participate in the annual children science congress. As many as 650 students form 25 schools took part in the event. Students of Him Academy Public School won the first position in four events and second position in one event. In maths olympiad, Ojas of Class XII and Arshita of Class X stood first. In activity corner, Riya Gautam of Class XII and Angad of Class VIII secured the first position. Aloukik Hari Om and Piyush bagged the first position for their survey report. Akshat won the first position in activity corner for special students. Shivam and Kritika shared the second spot in model making.
Carnival at Auckland House
The Auckland House School for Boys organised a carnival, which was declared open by principal, Euro Kids, New Shimla, Raveen Singh. Accompanied by principal Michael A John and director, Auckland House School, Sunita John, Singh visited each and every stall. The students tried their luck in various games and relished delicious snacks. The carnival came to an end with the announcement of raffle prizes.
Noorpur school win volleyball meet
Noorpur Public School, Nurpur, won the inter-school volleyball competition organised by Himotkarsh Sahitya Sanskriti and Jan Kalyan Parishad, Nurpur. Out of 14 participating schools in the boys category, Noorpur Public School stood first, Rose Public School second, Government Senior Secondary School (GSSS), Hatli Jamwala, third. In the girls category, Noorpur Public School stood first, Tagore Public School, Rehan, and BTC GSSS, Nurpur, were declared first and second runners-up, respectively.
["source=tribuneindia"]