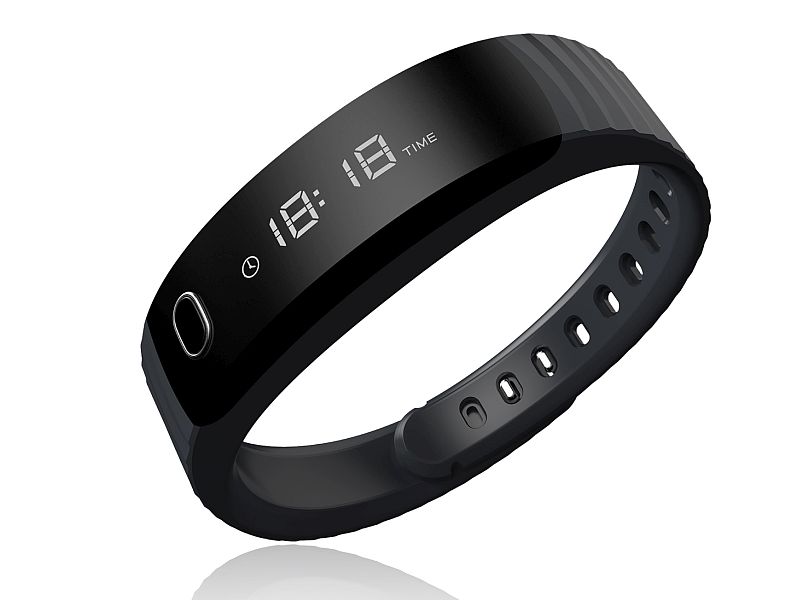 While Xiaomi's Mi Band is our favourite activity tracker at the sub-Rs. 1000 price level, its lack of a display can be a deal-breaker for some. Micromax's Yu YuFit had the right ideas but fell well short of the mark in our tests, which means there is plenty of room for competitors. Intex has decided to step in with the FitRist, a Rs. 999 activity tracker with a display. We used it for a couple of weeks to see if it can displace the Mi Band as our top budget activity tracker.
The FitRist is made of a very comfortable material with a rubber-like finish. In the time that we spent wearing the device, it didn't irritate our skin at all. We wore it for long hours – practically the whole day – without any issues. The display is glued to the band. This makes it meld seamlessly and ensures that the rubber-like material is the only thing that comes in contact with the wearer's skin.
There is a button on one side of the display, which you use to switch between time, date, steps taken, distance covered, calories burned, music control, and camera control, but it doesn't show sleep data. To check your sleep tracking statistics, you will have to use the FitRist's Android or iPhone app.
We tested the FitRist with an iPhone and felt that the app needs improvement. Its design is rather crude and clunky – a far cry from the slick Mi Band app. Pairing was a big headache. Even though the process appears simple, we found that the app sometimes wouldn't detect the band at all and even when it did, it wouldn't always pair with it. We managed to pair the device after multiple attempts but when the band did get disconnected, pairing it again gave us similar issues.
The app has some other oddities, such as having your activity history and sleep tracking data hidden under a strangely named "Record" feature in a menu.
We're willing to excuse a sub-par app if the band itself does a good job. We used an iPhone 5s to compare activity data against the Intex FitRist and results weren't good. On an average the iPhone 5s's built-in motion sensor recorded around 25 percent more steps than the FitRist. We checked this data on multiple days and the FitRist consistently under-reported our activity. A small difference between the two devices' data is acceptable, but an activity tracker ceases to be useful if it is off the mark by such a huge margin.
The FitRist also lets you control music playback and trigger your phone camera's shutter button using its own button, but the process is too clumsy to be useful. You need to press the button till you reach the relevant control and then hold it until a song starts playing on your phone or until the photo is captured. Doing the same things via your phone is a lot faster. The FitRist does have pretty good battery life – we had to charge it just once a week.
To sum it up, even though the Intex FitRist is very comfortable to wear and has an attractive price tag of Rs. 999, we can't recommend it because of its inaccurate activity data reporting. The app could use a lot more polish too, but Intex needs to fix its activity tracking first. If you're looking for an affordable fitness wearable in India, the Xiaomi Mi Band still remains the one to get.
Pros
– Display – Battery life – Pricing
Cons
– Inaccurate activity tracking – Clunky app – Pairing isn't smooth
Ratings (out of 5)
Design: 4
Tracking: 1
Other features: 2
Value for money: 1
Overall: 1
[Source:- Gadgets360]