Greece has lifted its suspension of the EU-Turkey migration deal, deporting a second group of migrants to Turkey after a four-day pause amid administrative chaos and civil unrest.
Greece began deporting 150 people from the islands of Lesbos, Samos and Kos early on Friday – the first deportations since the EU-Turkey migration deal came into effect on Monday and was then halted.
The expulsions came just hours after overnight clashes on the island of Chios. Exhausted at being detained in conditions that Amnesty International described as appalling, hundreds of migrants broke out of their detention centre last week and camped in the island's main port. In response, groups of residents began threatening and chasing them, videos showed.
There was further chaos on Lesbos early on Friday, as pro-refugee protestersplunged into the sea and swam alongside EU deportation vessels to try to stop the return of 45 Pakistanis to Turkey.
The men and women, both Greek and foreign, were plucked from the sea by the local coast guard before being taken to the police station and charged.
In Ankara, President Recep Tayyip Erdoğan threatened to end Turkey's participation in the migration deal unless the EU upheld its side of the bargain.
The EU has begun to fly some Syrian refugees from Turkey to Europe – a prerequisite for Turkey agreeing to take back all asylum seekers who arrive in Greece from Turkey.
But Erdoğan said he was concerned the EU would renege on plans to provide €6bn in aid, ease visa restrictions for Turkish people, and speed up negotiations over the country's potential accession to the EU.
"There are precise conditions," he said in a speech. "If the European Union does not take the necessary steps, then Turkey will not implement the agreement."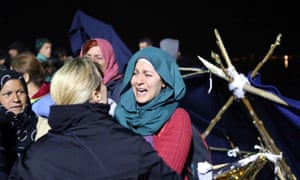 The developments represent the fallout from the EU's new approach to the biggest wave of mass migration within Europe since the second world war. Until recent weeks, European countries were allowing the hundreds of thousands of people who had fled war, poverty or persecution in the past year to travel onwards to the wealthier countries of northern Europe.
Since 20 March, all those arriving in Greece are now detained in camps, and the EU has promised to send back most of them to Turkey on the assumption that Turkey is a safe country for refugees.
The success of the deal rests on whether cash-strapped Greece can care for so many people who previously would have spent just days in the country before moving on; and whether Greek officials have the resources to properly process so many asylum applications within such a short space of time.
Serious doubts emerged this week over both these points, after the UN said that 13 of the first wave of refugees to be deported had been expelled by mistake. Then on Friday, Amnesty International released a damning report about the conditions in which refugees are being held on islands such as Lesbos and Chios.
More than 4,000 people were being detained in appalling conditions on the islands, and had no access to lawyers, proper healthcare, blankets and a respectable quality of food, the human rights group said.
The detainees included a group of up to 100 vulnerable people who needed urgent attention, including a baby with complications after an attack in Syria, pregnant women, people who are unable to walk, and a girl with a developmental disability, Amnesty said.
"On the edge of Europe, refugees are trapped with no light at the end of the tunnel. A setup that is so flawed, rushed and ill-prepared is ripe for mistakes, trampling the rights and wellbeing of some of the most vulnerable people," said Gauri van Gulik, Amnesty's deputy Europe director.
"People detained on Lesbos and Chios have virtually no access to legal aid, limited access to services and support, and hardly any information about their current status or possible fate. The fear and desperation are palpable."
A Syrian man in his late 20s told Amnesty: "I escaped Syria to avoid jail, but now I am in prison."
The report found there was one caseworker to review more than 800 asylum applications on the island of Chios, despite Greece's EU partners having pledged to provide logistical help, including thousands of asylum workers. So far only dozens have arrived.
The situation in Chios is explosive, with locals expressing fears of a major eruption after tensions came to boiling point on Thursday night and Friday morning.
Police dispatched from Athens were forced early Friday to intervene after a mob, led by far-right supporters of the neo-fascist Golden Dawn, turned against refugees and migrants in the port. As many as 500 men, women and children – most from Syria and Pakistan – have been in the port since fleeing the island's overcrowded detention camp hidden in the hills above Chios town.
One volunteer, who witnessed the clashes, described how riot police attempted to form "a defensive wall" between the refugees and hundreds of angry protesters. "A lot of people were beaten up," Benjamin Julian, an Icelandic volunteer, told the Guardian. "I saw at least one refugee being carried away on a stretcher although the fascists seemed pre-occupied with targeting volunteers in the solidarity movement and even the media."
Authorities began evacuating the refugees – taking some to an open camp outside the town and a local police station. Previously they had been unable to clear the port for lack of space.
Chios' mayor Manolis Vournous conceded that conditions were deplorable. "The refugees are not a problem. The conditions under which they are kept are the problem," he said in an interview at the town hall.
[Source:- Gurdian]