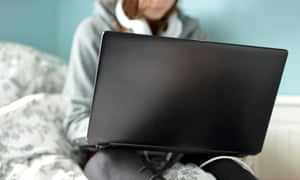 Teenage girls are being invited to put their technology skills to the test in a competition that could unearth the cyber spies of the future.
The contest has been set up by GCHQ's new National Cyber Security Centre as part of efforts to inspire more women to join the fight against online crime. Only 10% of the global cyber workforce are female, the intelligence agency said.
Girls aged 13 to 15 can enter the CyberFirst Girls Competition in teams of four. The first stage of the competition involves a series of online challenges, with the top 10 teams then progressing to a national final in London in March.
The GCHQ director, Robert Hannigan, said: "I work alongside some truly brilliant women who help protect the UK from all manner of online threats.
"The CyberFirst Girls Competition allows teams of young women a glimpse of this exciting world and provides a great opportunity to use new skills. My advice to all potential applicants would be: enjoy the experience and I look forward to meeting some of you."
[Source:- Gurdian]