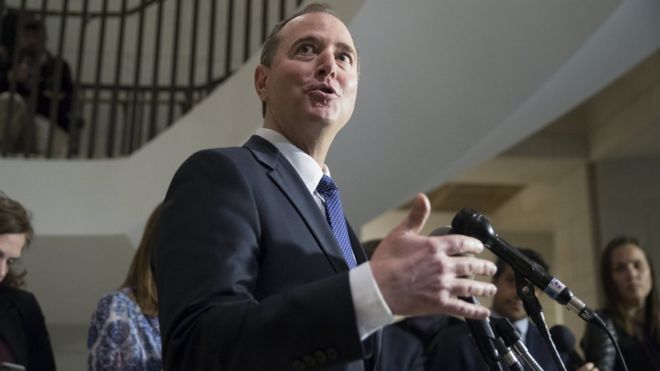 A congressional panel has voted unanimously to release a Democratic rebuttal to a Republican memo alleging bias against President Donald Trump.
The Republican president has five days to decide whether to declassify the 10-page document.
The House Intelligence Committee released the Democratic memo, which highlights flaws in the Republican one.
The Republican document claimed the FBI abused its power by investigating a Trump adviser.
Adam Schiff, who wrote the second memo, welcomed Monday's vote by the Republican-controlled committee on which he is the top-ranking Democrat. The panel had previously blocked release of his document.
Republicans, he said, had "found themselves in an insupportable position when they released a misleading memo and refused to release the Democratic response, so I think they were compelled to take the action they did today".
The California congressman said it would be "very hard" for the Trump administration now to block its release.
What was in the Republican memo?
The four-page document centres on court-approved wiretapping of Carter Page, a foreign policy adviser to the Trump campaign, who was placed under electronic surveillance by the FBI.