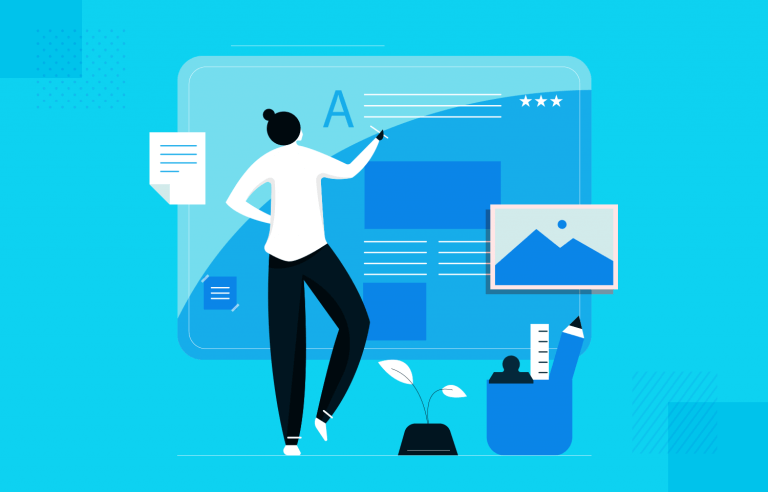 Do you work in web design? Are you a freelancer or do you work in an agency? Either way, the answer to both questions is that it's a good idea to read up on web design blogs on a regular basis
Need some web design inspiration or just looking for some free resources? Either way, our list of the top 40 web design blogs has you covered!
Do you work in web design? Are you a freelancer or do you work in an agency? Either way, the answer to both questions is that it's a good idea to read up on web design blogs on a regular basis.
Start prototyping websites today! Enjoy unlimited projects.
Web design is a largely creative role. And working in any creative role can be very rewarding, but only if you're constantly inspired. How many creatives have you met that love hitting a brick wall when given a new client brief or design problem? Probably none.
That's why it pays to follow the best web design blogs on the internet. They help you stay current on the latest design trends and provide you with a regular source of inspiration. Many also provide advice on the best web design techniques to use and how to conduct your daily business, as well as free resources to enhance your work.
There are, however, a lot of web design blogs on the internet. That's why, in this post, we've rounded up a list of 40 of the best web design blogs out there to make your life a little easier. Read on to find your perfect bookmarks!
Reasons to read web design blogs
Whether you're a freelance web designer or work in an agency or design studio, you'll want to keep up to date with all the latest developments in the industry. By doing this, you'll ensure that you're always offering the most informed and creative design solutions.
Following web design blogs helps you keep track of changing design patterns. You'll want to be able to understand why new trends are introduced and what role they play in the user experience. Likewise, you'll learn about new tools on the market, as well as updates to existing ones.
Additionally, many web design blogs provide guides and tutorials. If you want to consistently grow and develop your skills as a designer, it makes sense to regularly check in with the best blogs on the internet.
Get a source of inspiration
Another reason to follow the best web design blogs can be summed up in one very important word: inspiration. You can study design and earn plenty of stripes in the industry, but that doesn't mean that you shouldn't be constantly on the lookout for new inspiration.
Why? Because it's inspiration that helps us come up with creative solutions to problems and keep growing as a web designer. The work of others can provide us with a constant source of inspiration, as well as open our minds and help us think outside the box.
Staying current on everything that's happening in other areas of the design industry, such as graphic design can also give you an added boost of inspiration!
By following other designers' work, we get better at thinking outside the box. We also get to learn about how others responded to certain challenges. Imagine you get a project to design the UI layout of an ecommerce website – a layout you've never done before. Seeing example design solutions can help you come up with new ideas for your client.
Lastly, by following some of the most popular web design blogs, you instantly expose yourself to a trove of free resources!
Many web design blogs give out freebies, such as icon sets, templates and plugins for tools like WordPress, Sketch and Photoshop. They're also great places to learn about where to find free stock images.
Furthermore, many blogs include guides and tutorials for design tools like Justinmind's prototyping tool. They also include tips and techniques for designing specific websites such as ecommerce sites, blogs, community sites, portfolio websites and more.
So, what are you waiting for? Take a look at our list, pick out your favorite blogs, bookmark them or jot them down somewhere and start mastering your daily workflow!
Start prototyping websites today! Enjoy unlimited projects
Envato Tuts+ is probably one of the best web design blogs on the internet at this moment in time. It provides you, the modern web designer, with every resource you could need to help you succeed in the industry. From free tutorials, learning guides and online courses, Envato has it all.
The content, written by other web designers is up to date, factual and based on practical experience. The content varies from web responsiveness to WordPress tutorials. They also have a range of ebooks available based around web and graphic design.
Smashing Magazine is a web design blog that has a massive volume of high quality articles all relating to web design and development. They boast a team of expert web designers and developers on their team of content providers. It's one of the best known web design blogs out there on the internet.
On this web design blog you can also find that they share many freebies such as templates and plugins that can help you on the job.
They also host workshops and conferences relating to the field of web design. Another thing that sets smashing magazine apart from many other web design blogs is that they have a job postings section for web design jobs around the world, including remote positions.
Creative Bloq is a blog with a myriad of regularly updated blog posts relating to web design, general art, web design news and trends.
On this web design blog, you can expect to find many examples of graphical website designs to inspire you. You'll also discover other types of inspirational artwork such as packaging and logo design, as well as interesting, original content about more abstract design topics.
In addition to this, Creative Bloq provide a guide and tutorials section for the general day to day tasks of a designer, making this an all-round blog.
Did you know Justinmind has also contributed to the Creative Bloq web design blog? Why not take a look at our post Can green UX save the world?
Another great feature of this blog that can be useful to any web designer is their Reviews section, where they give honest opinions about different design tools.
Sitepoint is one of those web design blogs where it's obvious they know what they're talking about. This is because their own blog is beautifully designed and easy to navigate. They have a blog, a community and a library section.
Heading straight to their library, you can find a ton of guides. You can also find Reviews of design tools like Sketch, examples and inspiration for many different aspects of design – from imagery and illustration to logo design.
Moreover, the kind of content on their web design blog is very relevant to the practicalities of a web designer's life, with posts on diverse topics such as portfolio building tools.
Start prototyping websites today! Enjoy unlimited projects.
You'd know that Hongkiat, by the design of the website and the quality of the content on offer, is a web design blog that's well established. Around for over a decade, Hongkiat offer many essential features that cover the practicalities of a web designer's daily life.
The kind of content on offer includes tutorials for design tools like Photoshop, and freebies such as WordPress responsive theme designs. They also offer some interesting and original, yet relevant content for web designers. This includes tips for conducting business as a designer, which would be especially useful for freelancers or CEOs, in addition to design philosophy.
Another feature we like is that they have an entire section dedicated to social commerce. This part deals with how to handle the social aspect of web design, and how to make creative video and audio content.
Web Design Ledger offers you content spanning the latest trends throughout the design world. They also offer reviews and advice about web design tools, on top of many resources such as free stock images, web design portfolio builders, design portfolio examples and much more.
An interesting aspect that separates this web design blog from the many others out there is that they have a section specially dedicated to interviews with expert web designers. Definitely a practical and inspiring choice for your bookmarks section!
Web Designer Depot is a relatively young web design blog that's quickly growing in popularity. And it's understandable why, with their variety of interesting content that offers up many rabbit holes to wander down.
One of the most distinguishing features of this web design blog is the fact that readers can vote and comment on the blog links in similar fashion to Reddit.
Like many other web design blogs, they promise to keep you up to date with all the goings on in the web design industry. With posts covering topics such as whether or not dark mode is useful or a nuisance in UI design, you're in for both an educational and entertaining experience.
Web Designer Depot also offers guides on a variety of different web design tools, along with handy resources for web designers.
A List Apart is a web design blog that you can trust. They're one of those sites that you can depend on when you need practical, technical information.
A List Apart's posts cover a range of topics from responsive web designs, to various types of web design layouts and grids. They also publish inspiring and creatively motivated posts such as how to reinforce brand identity in your web design.
Something that separates this web design blog from others is their events section that includes interviews with many experts in the industry of web design.
Codrops was created by a community of web designers and web developers who wanted to share the best content relating to web development.
Their content includes roundups of popular resources for designers, as well as inspirational examples of web design layouts.
In their Collective section they post about the latest news relating to web design, as well as useful resources that can help you along with your day-to-day work as a web designer.
Other interesting factors that distinguish the content on this web design blog from that of others are the many posts they have on responsive web design and their plethora of WordPress related tutorials.
Start prototyping websites today! Enjoy unlimited projects.
Awwwards is an absolute necessity for your bookmarks section if you're a web designer looking for daily inspiration. Awwwards is a web design blog that, as the name suggests, awards some of the best and most creative website designs on the internet.
Awwwards also acts as a great site to promote new designers and is a great place to find some of the most creative and innovative web designs. And what's more is that they don't mess around: their awards are based on strict metrics. Each website they promote is rated based on the following metrics: design, usability, creativity, content responsiveness.
Speckyboy is another web design blog that has been around for a while. Created more than a decade ago, Speckyboy is an online magazine that features many helpful tips and features for designers.
The kind of content you can expect to find on their blog ranges from tips to improve your workflow, web design techniques, freelancing tips and even time-saving techniques. They also feature regular news pieces, up to date articles about the latest web design trends, along with feature a section for free resources.
What we particularly like about the content of this site is that it's visually oriented, tipping the ratio of images to writing in favor of the former. The little text that there is in post is straight to the point and scannable.
Design Shack is a web designer's goldmine of information. Along with new design resources published everyday, they include a wide range of variety of content on their blog. Their posts ranges from tips and tutorials, to inspirational examples and the latest web design trends that cover everything from color palettes to typography.
They also cover other areas of design, for which it wouldn't hurt to take a look at, such as logo design. We also like their layouts section, where they write about all the technicalities of web design, from web footers to single page web design.
OnextraPixel is an essential web design blog for your list of bookmarks. And, as we keep saying, you can always trust a web design blog that has its own great web design!
Each category of this blog is neatly laid out. The content is easy to browse and scan, with a sweet ratio of striking imagery to text.
The content on their web design blog talks about every aspect relevant to web design and covers topics from typography, to plugins available for WordPress. They also provide tutorials and reviews for many different design tools.
However, one thing that sets these guys apart from the rest are the case studies they perform that are based on trial and error web designs.
You might not have imagined Airbnb had a design blog. Well, it turns out they do! And it turns out that they're as serious about good design as they are about accommodation.
With their main motivator being value-driven design, Airbnb.design sets out to cover not just web design itself, but many other topics relating to the general trends of the design world.
They provide inspirational examples on blog posts about how you can use design trends and generate creative ideas to maximize your revenue potential. Their posts discuss important themes in this industry such as design languages and design systems.
They also host a series of design talks around the world and usually announce them in their events section, where they also delve into the speakers' backgrounds. Their talks revolve around interesting themes, such as the role of chaos in the design process. You can see the recorded versions of previous events in the Videos section. Definitely worth a bookmark!
Start prototyping websites today! Enjoy unlimited projects.
Getflywheel.com is a domain which does WordPress hosting, as well as workflow solutions. Their web design blog, Layout, looks at the wider field of digital design and marketing, such as web design, development and business solutions.
If you're a designer, we definitely recommend taking a look at their posts on web design. The content they provide is highly varied, with guides and tutorials covering topics like how to import and export Gutenberg blocks in WordPress, how to animate SVGs and website color schemes. They also include many freebies, such as layout templates and icon sets.
What we particularly like about the content of this web design blog is their originality. Their posts cover an amplitude of different but relevant themes in the web design world, such as how to obtain client and stakeholder buy-in for your designs.
Line25 is a trendy web design blog that posts about topics like how to use WordPress to its maximum potential and how to pick fonts. They also have many free resources such as portfolio layouts and Photoshop templates.
Another thing we like about this web design blog, and a feature we believe that separates it from the rest, is its unique and original take on web design content.
Yes, it provides blog posts about trends and news in the design world, but also talks about more abstract, yet highly relevant design themes. Such themes include philosophical design questions, such as choosing between minimalism and maximalism.
Boagworld is a web design blog that's hosted by experienced UXer Paul Boag. Paul's been around in the web design industry since the 90s and brings a wealth of experience to share with modern web designers. He's also written for famous blogs like Smashing Magazine.
On this web design blog you'll find practical tips on how to avoid analysis paralysis and how to keep designs simple. He also provides podcasts covering design and digital marketing, as well as content creation and strategy.
Furthermore, Paul provides digital training workshops on demand for companies wanting to improve their digital design and marketing strategies.
Like the name suggests, Designrfix provides you with your fix of colorful, design-based content on a regular basis.
On this web design blog, you'll find inspiring examples of illustrative art and creative web design. You'll also see examples of great design patterns, web backgrounds and logo design. Additional content includes a range of freebies and helpful design resources such as responsive web templates – even tutorials on graphic design!
If it's regular inspiration you're looking for, you should definitely add this web design blog to your bookmarks!
WPKube is a little different. This web design blog covers all things WordPress related. Here you'll find many practical resources such as WordPress plugins, as well as tutorials for beginners through to advanced users.
You'll also find many interesting themes that you can incorporate into your WordPress designs. Moreover, you'll find important news and modifications relating to the software. If you use WordPress often, you'll definitely want to stay up to date on all the latest updates, changes and hacks. And this web design blog will help you do just that!
With our own blog and website based on WordPress, we think this site is very useful and definitely deserves a place on your bookmarks list.
Start prototyping websites today! Enjoy unlimited projects.
Design Bombs's domain name aims to represent the goal of their blog: to blow up our preconceived notions of what design is.
They provide plenty of guides and tutorials for common design tools and techniques, from beginners to even the most seasoned designers. They also include many freebies and tips on what to include in your WordPress content.
Their posts discuss a wide range of practical design topics, such as Google fonts, Photoshop plugins and even inspiring portfolio examples. Best of all? Their content is updated on a regular basis!
Noupe is one of those web design blogs that try to offer a diverse publication to its readers. The blog includes classic design topics, such as what makes the perfect logo, to more varied themes that can touch on business, UX, print design or team management. Altogether, freelancers and designers who are looking for more educational articles will be delighted.
We like that Noupe offers more theoretical posts that deal with design concepts – which is great for newbies. With that said, we also enjoy that not all posts are strictly educational, with some of them being funny and entertaining. Sometimes, we just need some design-focused humour, right?
This web design blog is broader than some of the other options on this list, but in a great way. Design Week includes everything from rejected Broadway posters to interior and furniture design. After all, one of the greatest things about design is that it's all around us!
The blog has a healthy amount of content dealing with web-based design. Heck, it even has a section that shows job listings in the design industry. Our favorite part is the Graphic Design section, with some truly great opinion pieces as well as design news that will catch your eye.
Another web design blog that acts as a digital magazine. Creative Boom has a lovely website that is worth a visit in its own right – that visual hierarchy game is insane, right? In any case, the blog offers all kinds of great content to designers, from their podcasts and inspirational posts to their book club.
We love that Creative Boom includes a lot of interviews and opinion pieces. It creates a certain vibe that goes beyond a digital magazine and makes you feel like you're engaging with the entire design community. No matter if you're looking for career advice or for how-to illustration guide – this web design blog has got you covered.
Mirador is a web design blog brought to us by Say What, a Paris-based design studio. The content is mostly curated by the folks at the studio with the ultimate goal of triggering inspiration in way, shape or form.
It makes for truly entertaining reading material, with most of it being very visual and light to absorb. The content offered can vary from typography-focused articles to great projects done by design studios around the world. Great stuff!
Start prototyping websites today! Enjoy unlimited projects.
Another very visual web design blog. Design Clever is a Tumblr-based blog that showcases incredible design work from people all over the globe. The people behind the blog encourage designers to share their work and it's obvious that people are using it as a way to connect the design community. It's light, entertaining and certainly inspirational material.
This might not be a good option for those trying to learn new skills, but it's a great choice if you want to lay back and simply enjoy good design. And sometimes, that's really all we need.
It's true that The Dieline isn't really focused on web design. Instead, it widens the conversation to a certain aspect that touches many different types of design: identity and branding. The Dieline aims to approach these two key elements of design in the context of product packaging.
You may wonder what exactly packaging has to do with web design – but think about it. The packaging tells consumers a lot about the product, the brand that sells it and the consumer that it attracts. You may not be able to see anything related to information hierarchy or animations, but you're bound to read things that will expand your horizons.
As an added bonus, the blog has a wonderful section called "Community". This is where designers from anywhere in the world can submit their work and become active members in the community. We love that.
Made by Folk has a wonderful take on web design. You won't find any tutorials or how-to guides here, but you'll find something much more interesting. This web design blog goes beyond the design and looks to the people who created it.
Most of the content consists of interviews with people who have succeeded in design, who pushed boundaries and innovated in their own way. You can find a tutorial just about anywhere – but an interview that discusses making the jump from another industry into design? That's special stuff.
Another thing we adore about Made By Folk is the way they deliver the content. Since most of the material is interviews with incredible people who made their mark, it's not written content at all. Instead, you can choose to either watch or listen to the interview. It makes for a great way to keep things dynamic and can make for a great resource when you're stuck in traffic.
Creative review is one of those web design blogs that really has a bit of everything. Their blog includes sections on things like illustrations, inspirational stuff, graphic design and even creative leadership. It's a really diverse mix, with a consistent quality that is bound to please most of us.
Our favorite part of this blog is their series of content. These little groups of articles approach great topics like advice from experienced designers, getting exposure as an artist or creating and maintaining a creative workplace. With each one more interesting and useful than the next, Creative Review is a truly great design publication that goes beyond cool visuals.
Eye Magazine is actually a printed magazine but it publishes some of its content on their blog. It's true that the design of their website in general needs a bit of an update, but their content is still great. From topics like a gender equality campaign in New Zealand to a new typography review, this blog has it all.
With its origin all the way back in the 1990's, Eye Magazine has covered a lot of content in its lifetime. It's not the best web design blog for people looking for specific tutorials or guides, but it can make for interesting reading material that always introduces you to new things.
Start prototyping websites today! Enjoy unlimited projects.
Ah, typography. It tends to be such an underrated aspect of web design, that we were thrilled when we found I Love Typography. While you may think that this topic may be a bit too narrow to deserve its own blog, we find that creativity can go to unforeseen lengths.
This web design blog has tutorials and guides, such as how to create your own font. We love that there's a list of great material to read for those who were just introduced into the world of typography.
Aside from that, you can also find content that deals with the art of it all, such as a post that connects Boticcelli's genius with typography. It's educational and fun, making this a wonderful web design blog that we should all bookmark.
Another web design blog that focuses on transmitting identity through design. Identity Designed creates a highly visual publication that loves case studies that come from real life. It's true that this blog won't be for those seeking in-depth content on the basics of color palettes, but there's something truly magical about it.
From a restaurant in New Orleans, a pet store in Australia to a design festival in the UK. Each one of the posts immerses us in a new world that was intentionally created by talented people from all over the globe. It's truly inspirational and makes for a great resource to turn to when our creative juices start to run low.
32. Shillington Design Blog
Shillington is mostly known for its graphic design bootcamp. It's true that the course has merit, but it's their web design blog that truly caught our eye. The blog offers all sorts of great content that you would expect from a design school, with educational posts on great tools and resources for designers.
With that said, we love that there's an entire section dedicated to interviews with designers, design graduates and teachers. There's also entire categories dedicated to inspirational posts that touch many different types of design, from illustrations and advertising to typography.
Brand New is a web design blog brought to us by Under Consideration, a graphic design firm. The blog itself focuses on brand identity and corporate design, making for an interesting read for those who seek the big names. It offers a lot of content on corporate rebranding and redesign, with an emphasis on logo design.
We like that this blog is highly visual, with little written analysis. For those who love logos, this is definitely a great web design blog.
This Tumblr-based web design blog is surprisingly extensive. The DSGN blog has just about everything a designer could seek for entertainment. The long category list includes everything from furniture and interior design to UX, branding and crafts.
This makes for a very entertaining web design blog that might surprise with both highly visual content as well as written articles filled with great information. For those who see UX design everywhere, both in the digital and physical world, this is definitely a great publication.
Start prototyping websites today! Enjoy unlimited projects.
Japan is a legend when it comes to design in general. It's unique vibe and style has people all over the world obsessed. And so, it's only natural that a design blog that focuses on Japan's take on design be such a wonderful read over at Design Made in Japan.
Design made in Japan is all about that unique style, and how it can be reflected on design. We love their UI and UX category, which is filled with great interviews and case studies of Japan-based products that will inspire any of us. For those who aren't necessarily looking for UX-themed content, there's plenty or architecture, fashion and animation articles to binge on.
Mindsparkle is all about graphic design. The blog showcases interesting case studies, real-world projects that impressed the industry as well as an entire section dedicated to web design.
We like that this web design blog likes to keep things light and focus on the visual aspect of creativity. Each post is immersive and inspirational, making for a treasure chest of material that should read "Open for Inspiration". It's true that you won't find in-depth articles about typography, but you will find incredible use of typography that might make you question things you read in those long guides.
In their own words, It's Nice That seeks to champion creativity in any way it may come. And we adore them for it. This web design blog goes much further than simply dealing with website design or typography. Here, you'll find articles on everything from illustration, art and photography all the way to sports and sustaina
Eye on Design is another web design blog that covers a lot of ground. Designers can expect to find everything from design book reviews to design-themed satire. It makes for a truly extensive and entertaining digital magazine.
We love that there's something for everybody, with deep topics like the interjection between design and politics as well as lighter stuff like profiles of awesome designers. As an added bonus, the design of the blog itself is wonderful.
8faces is a web design blog that focuses on great typography and lettering. It discusses all things in the world of awesome fonts, offering plenty of great visual material. It's Tumblr-based, but still has easy navigation and material so inspirational that one could just keep scrolling for a long time and never be bored.
The Inspiration Grid may be last, but it's certainly not least. This awesome web design blog includes all things related to the creative work of talented people for all around the world. Topics you can find here include things like graphic design inspiration, typography, architecture and awesome art collections that are worth seeing.
Although 20 might seem like a long list, we're well aware that some blogs might be for some people, but not for others. The blogs you choose to follow will depend a lot on your own tastes, but you'll also need to make some objective decisions when it comes to reading materials and resources.
Some possible questions you could ask yourself before choosing to follow certain design blogs are "will this be of use to be in my current and future roles? Will this inspire me or help me to think differently?" It might also help to consider the following points:
Are you a freelancer or do you work in an agency? Some blogs might be suited to both!
What kind of clients do you have?
What type of design does your job require?
Will the resources in this web design blog suit your current job's needs?
What kind of brands have you worked on in the past? Is there anything new you could learn?
We hope you'll find something inspiring from this list of web design blogs. Remember: inspiration isn't something you learn – a designer needs inspiration like they need water (which is 8 glasses a day!).
["source=justinmind"]