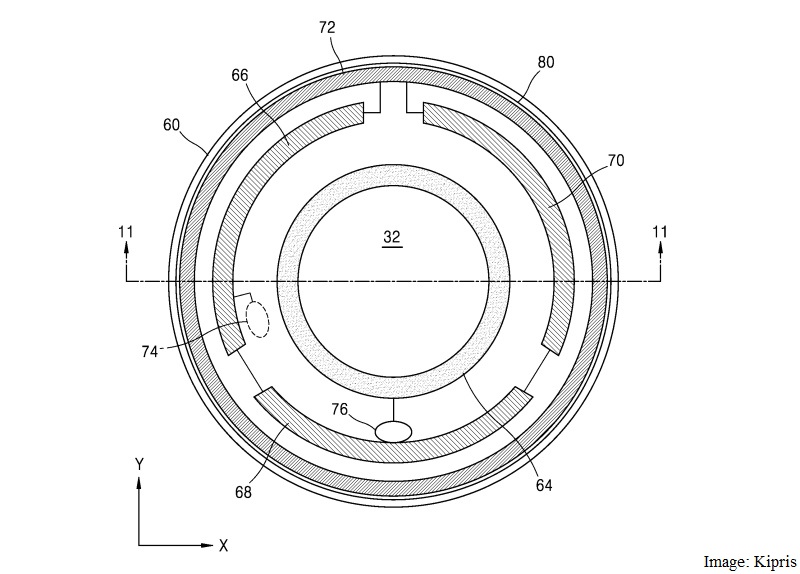 Since 2014 we have been hearing about Google working on smart contact lenses for users. As it turns out, Samsung too since 2014 has been interested in the same field and might as well be already working on it, according to a recently granted patent. What's different here is that while Google was only working on smart contact lenses for medical monitoring purposes, Samsung patent suggests its smart contact lenses will also feature a built-in camera.
The South Korean tech giant's smart contact lens, as per the patent (via Sammobile) is supposed to project images on to the user's eyes via a tiny display and take photographs wirelessly that the wearer can view in their connected smartphones. The 29-page patent published by Kipris (Korean Intellectual Property Rights Informative Service) was filed by Samsung Electronics Co., Ltd. back in 2014, same year when Google started working on its own smart lenses. The Samsung lenses are also said to detect eye movements and sensor inputs as and when the user blinks.
The translated abstract suggests the smart lenses are made to brings augmented reality closer to the masses in the most easiest form. However, as with all patents it is not necessary that the company granted the patent will use the technology in an actual production device. So, while we may never see Samsung bring the smart lenses with camera, we at least know the technologies the company is exploring.
In February, another patent hinted Samsung to be working on a future smartwatch that could use our veins for identity verification. In the patent, the company describes a method to identify users that takes a scan of the registered user's vein layout, and then compares it to the layout of the person trying to authenticate themselves in the future.
[Source:- Gadgets360]