Ali al-Amin says he does not intend to drop charges against his estranged Australian wife over attempt to seize children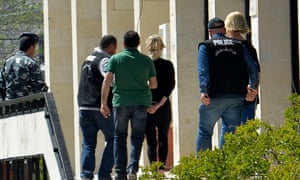 The father of two children at the centre of a botched child recovery operation inLebanon has said he is in no hurry to resolve the case and does not intend to drop charges of attempted kidnapping against his estranged Australian wife.
Speaking inside the Baabda palace of justice, a defiant Ali al-Amin contradictedstatements made last week that he was open to compromise on the charges laid against Sally Faulkner.
The judge, Rami Abdullah, adjourned the case until Wednesday to allow talks to continue.
Faulkner, from Brisbane, flew to Lebanon this month with a news crew from theChannel Nine programme 60 Minutes in an attempt to seize the couple's children from a street in south Beirut.
Tara Brown, the correspondent for 60 Minutes, and Adam Whittington, the founder of Child Abduction Recovery International, are among seven people also facing charges over the operation. The others include the 60 Minutes cameraman Benjamin Williamson, producer Stephen Rice, and sound recordist David Ballment.
Amin suggested on Monday that if he agreed to drop charges against his ex-wife, he would also make it more likely that the 60 Minutes crew, Whittington and two others involved in the operation, would be freed too.
"They are trying to push for that if Sally gets bail, they all get bail," he said. "I said then I will charge everyone involved and I say it today. It will take some time. I am in no hurry."
Amin appeared confident and unhurried, in contrast to Faulkner who seemed tired and distressed when she was brought before the judge. Brown also appeared briefly in chambers.
Abdullah said a hearing for the group had been postponed because another case had taken precedent. Under Lebanon's inquisitorial judicial system, pre-trial hearings can be part mediation sessions and part interrogation.
Amin took five-year-old Lahela and three-year-old Noah to Lebanon almost a year ago. Faulkner, who was separated from Amin, then involved a child recovery team, which arranged to seize them.
The operation was successful, but the team behind it was quickly seized. All involved, including Faulkner, were arrested.
Whittington's lawyer said he was expected to have presented documents to the court that showed 60 Minutes had paid him in two tranches.
A lawyer for 60 Minutes, Kamal Abou Daher, admitted that Channel Nine had paid for the story, but attempted to draw a distinction between the legal fight for custody of the children and the abduction itself.
"Ali's lawyers said it and you heard yourself, they are not in a hurry," he said. "This changed after the last hearing."
Speaking inside his chambers, Abdullah said he had no preference for how the case progressed from here. "Of course, if everything is negotiated it is better," he said. "However that is up to the parties."
On Sunday, the 60 Minutes host Ross Coulthart said the programme's detained crew members were "said to be in good spirits and coping well". Brown has said she was being "well-treated in a women's detention centre", he said, while her male colleagues were held separately.
On Monday, prominent Channel Nine journalists rallied to support Brown and the rest of the crew before the hearing.
60 Minutes' apparent decision to cover the costs of the child recovery operation has faced intense scrutiny, but a number of Australian journalists have now come to the show's defence.
On Monday, Tracy Grimshaw defended the crew in an article for the Australian, saying they were not "tabloid cowboys".
"They are not a threat to society. That's probably the biggest Captain Obvious statement you will read all day. They are good people who care about what they do, who love their families and friends and are loved very much back," she wrote.