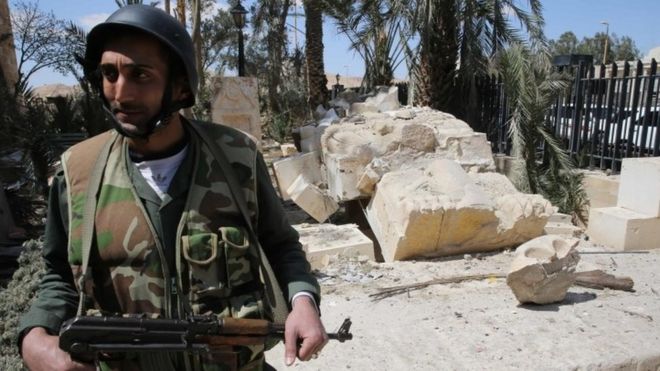 Syrian troops have found a mass grave containing about 40 bodies in the city of Palmyra following its recapture from the Islamic State (IS) group, state news agency Sana reports.
The grave containing the bodies of men, women and children was uncovered on the north-eastern edge of the city.
Some had been beheaded while others had been shot, a military source told AFP.
He said they were officers, soldiers, members of pro-regime militia and their relatives.
Twenty-four of the victims were civilians, including three children, the source added.
The bodies have been transferred to a military hospital in the provincial capital Homs. Some have reportedly been identified.
Palmyra: Inside the ancient city
Recapture of Palmyra tightens noose on IS
Islamic State group: The full story
Last Sunday, the Syrian army, backed by Russian forces, recaptured Palmyra and its Unesco-listed ruins, which IS overran in May last year.
IS militants executed at least 280 people during their occupation of the city, according to the Syrian Observatory for Human Rights, a UK-based monitoring group.
They also caused extensive damage to the world-renowned antiquities site.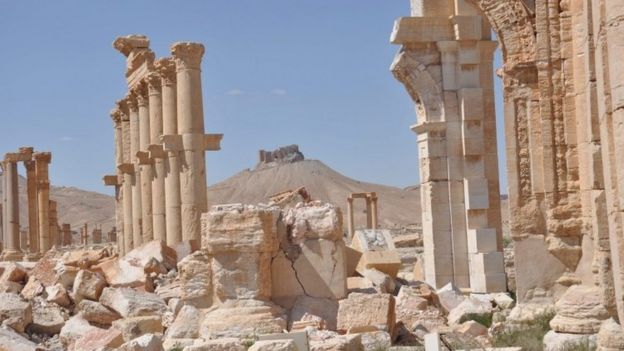 [Source:- BBC]