The threat from terrorists trying to launch a nuclear attack that would "change our world" is real, President Barack Obama has said.
The world has taken "concrete" steps to prevent nuclear terrorism, he told the Nuclear Security Summit in Washington.
But the so-called Islamic State (IS) obtaining a nuclear weapon is "one of the greatest threats to global security," he added.
More than 50 nations were represented at the summit.
World leaders convening in Washington for the summit expressed concern about North Korea's nuclear weapons programme and Russia's lack of attendance.
Mr Obama expressed concern that Russia has been building up its military at the expense of nuclear arms reductions.
Russian President Vladimir Putin refused to attend the summit, and Prime Minister Nawaz Sharif of Pakistan cancelled his trip after the deadly bombing in Lahore. Both countries are nuclear-armed.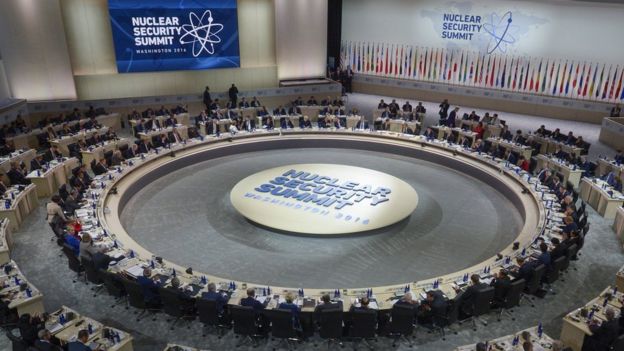 As the summit closed, the leaders reaffirmed their commitment to fight proliferation.
Mr Obama cited progress in making large parts of the world free of nuclear materials. South America had already achieved this, and Central Europe and South East Asia were expected to do so later this year.
"Together, we have removed the world's most deadly materials from nuclear facilities around the world," he said.
Despite these gains, Mr Obama said the Indian subcontinent and the Korean peninsula were areas where more could be done to combat proliferation.
Mr Obama said the world cannot be "complacent" and must build on its progress in slowing the stockpiling of nuclear weapons.
IS has already used chemical weapons in Syria.
"There is no doubt that if these mad men ever got their hands on a nuclear bomb or nuclear material, they would certainly use it to kill as many people as possible," he said.
"The single most effective defence against nuclear terrorism is fully securing this material so it doesn't fall into the wrong hands in the first place."
Mr Obama hailed his own nuclear agreement with Iran, which has been criticised by Republicans and other groups for the sanctions relief it provides. He called it a "substantial success".
"This is a success of diplomacy that hopefully we will be able to copy in the future," he said.
Mr Obama said Iran has so far followed the letter of the agreement. He urged patience as the country becomes re-integrated into the global economy.
"So long as Iran is carrying out its end of the bargain, we think it's important for the world community to carry out our end," he said.
At the summit, Mr Obama was asked about recent comments by presidential hopeful Donald Trump.
The Republican front-runner had floated the idea that Japan and South Korea should have nuclear weapons, a dramatic departure from decades of US foreign policy.
"The person who made the statement doesn't know much about foreign policy, nuclear policy, the Korean peninsula or the world generally," Mr Obama said.