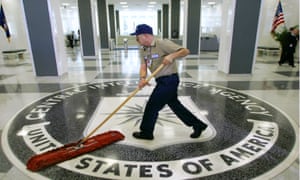 The CIA has published more than 12 million pages of declassified documents online, making decades of US intelligence files more easily accessible and searchable.
The agency published the roughly 930,000 documents that make up the CIA Records Search Tool (Crest) on Tuesday. The online publication of the files was first reported by BuzzFeed News.
Although all of the documents in Crest were part of the public record before Tuesday, they could only be inspected by visiting the National Archives in Maryland in person. Once at the archives, just four computers available only during business hours provided access to Crest. A lawsuit from the open-government nonprofit MuckRock prompted the CIA to make the documents available online. Further pressure to publish the documents came from the transparency advocate and journalist Michael Best, who began steadily scanning and uploading the documents one by one.
"Previously, in order to directly access Crest, a researcher was required to visit the National Archives at College Park, Maryland," according to the program's webpage. "CIA recognized that such visits were inconvenient and presented an obstacle to many researchers."
The Crest database features a wide range of different files, including former secretary of state Henry Kissinger's papers, and documents on Nazi war crimes. The collection also has files on UFOs, recipes for invisible ink and reports on research into telepathy.
This research included the Stargate Project, an initiative to investigate the possibilities of telepathy for intelligence use. A 1995 review of the research concluded it was "unclear whether the existence of a paranormal phenomenon, remote viewing, has been demonstrated".
The CIA also kept files and documents on media organizations and individual reporters. A letter attached to a photocopy of a Mother Jones article from 1978 describes the newsmagazine as a "locally-produced scandal sheet published by a dissident group". The author and the recipient of the letter have been redacted from the files.
An internal CIA letter notes the appointment of Carl Bernstein, one of the reporters who exposed the Watergate scandal, as the Washington program manager for ABC. The sender of the letter notes his desire to "find out what kind of person he is". Crest includes dozens of documents related to Bob Woodward, the other half of the team that reported on Watergate, and a brief 1985 noteexpresses concern about Woodward's future reporting: "I learned from CIA source that Washington Post's Watergate reporter, Bob Woodward, has cast evil eye on CIA chief Bill Casey," the note reads. "Woodward is questioning everyone who ever knew Casey."
Woodward published a book about Casey's time as director of central intelligence in 1987.
A 1995 executive order requires all non-exempt historically valuable documents that are more than 25 years old to be declassified.
[Source:- Gurdian]