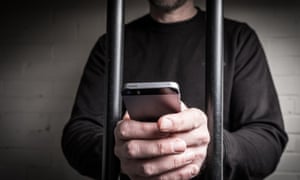 Hundreds of social media accounts were shut down in 2017 after it was discovered they were being run by prisoners using illegally obtained mobile phones in jail, data obtained by the Guardian shows.
The number of social media accounts deleted or deactivated because they were being updated from behind bars tripled from 152 in 2015 to 527 in 2017, according to a freedom of information request.
Prisoners were found to have profiles on most major social networks, including Facebook, Instagram and YouTube, making it almost impossible for prison governors to control their interactions with the outside world, with experts warning the situation fuels criminal activity, harms victims and threatens national security.
"News that some prisoners have had access to social media accounts while serving their sentences – and that this number is growing – will be shocking for many and potentially very distressing for victims," said Diana Fawcett, the chief officer at Victim Support.
She added: "Victims could be left feeling extremely unsafe knowing that the perpetrator may have access to personal information about them, be able to see photos of them or that they could potentially contact them or their family and friends."
Experts warn that social media use is growing in prisons because the Prison Service doesn't have the staff, technology or the will to address the issue.
"It's a problem because uncontrolled access to mobile phones and other technology assists criminality inside prisons, particularly organised crime and the drugs market," said Ian Acheson, a former prison governor who led the independent government review of prison extremism in 2016. "This drives the misery, violence and despair we are seeing broadcast almost nightly on our TV screens."
He added that the technology exists to detect mobile signals and defeat them, with Scottish prisons testing ways to track and block individual handsets.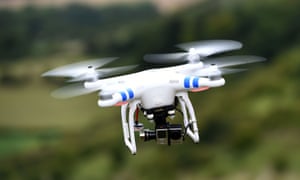 "It's truly baffling that HMPPS and the Ministry of Justice aren't on top of this threat," Acheson said.
The Prison Service said it has invested £2m on detection equipment and that their digital investigations unit had shut down more than 1,000 social media accounts since 2016.
A spokesperson said: "The illicit use of mobile phones undermines the safety and security of our prisons. We are taking urgent and decisive action to tackle this threat, including detection dogs, body scanners and intelligence-led searches."
Some tiny, plastic-only phones the size of a tube of lipstick can be smuggled past prison metal detectors. But prisons are also seeing a proliferation of smartphones with fast mobile internet connections, which enable greater access to social media.
Earlier in 2018 one criminal used such a device to access Twitter and live-tweet a riot at a prison in the south of England. When a Guardian reporter challenged the veracity of his account, the prisoner called on Apple's video-calling service FaceTime and gave a tour of his cell during the disturbance, which was audible in the background. Footage of outside buildings shot through the cell's bars matched with external photos of the prison.

The inmate, who did not identify themselves, claimed they were able to illegally buy an iPhone from a prison guard and showed off a games console they had in their cell. The prisoner's Twitter feed also contained multiple requests for links to live streams of boxing matches and other sporting events, suggesting he enjoyed the same unlimited access to an array of media as any member of the public with a smartphone.
The MoJ said whether a social media account was deleted or deactivated depended on the policy of the social media platform.
Facebook and Instagram said they disabled inmate accounts when a prison provided them with legal authority banning access to social media or the internet, or if the prison submitted facts suggesting there was a real-world safety risk. They said they also removed prisoner accounts that violated community guidelines, when informed via their reporting tools.A spokesperson for Facebook and Instagram said: "We have well-established processes with law enforcement and the Ministry of Justice and when we are notified of active accounts being used from prison, we comply with legal orders and requirements."
The growing use of smartphones in prisons has also been a boon to news outlets, who are able to obtain unmediated footage of disturbances and life behind bars, which embarrasses the Prison Service. And the nature of the challenge is changing – although Facebook and Twitter accounts are easier to pin to individual prisoners and shut down, the increasing shift to sending communications and video over encrypted group messaging services such as WhatsApp makes it harder for the authorities to identify transgressions.

Prisoners are banned from updating their Facebook accounts while serving their sentence or from asking others to do so from outside jail.
The MoJ has warned any inmates caught breaking the rules face tough punishments, which can include them spending an extra two years behind bars.
In 2017, data showed that more than 200kg of drugs and 13,000 mobile phones were found in jails in 2016. The haul of contraband also included 7,000 mobile phone sim cards.
source:-the guardian