Raspberry Pi foundation launches new model as it announces 8m devices have been sold in four years, making it the UK's all-time bestselling computer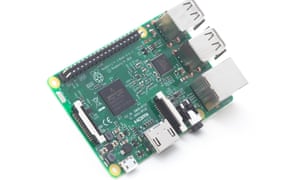 The Raspberry Pi foundation has launched the latest generation of its flagship credit card-sized computer as it announced sales have topped 8m, making it the UK's all-time bestselling computer.
The Raspberry Pi 3, released on Monday, costs $35 (£25), the same as its predecessor (although still seven times more than the ultra-stripped-downRaspberry Pi Zero, which was launched as a free cover gift with a magazine). In its small-form factor is a 1.2GHz quad-core ARM processor (a boost from the Pi 2's 900MHz), as well as integrated Wi-Fi and bluetooth, a first for the series.
The Pi family has a strong fanbase worldwide. Its low cost, slim form and low power consumption make it useful for a variety of hobbyist purposes, from creating a simple media centre to a bootstrapped router or a dedicated retro games machine.
The machine has also become strongly identified with education initiatives, like the BBC Micro before it, thanks to the help of groups like Code Club, which use Raspberry Pi machines to teach programming in schools. In November 2015, the Raspberry Pi foundation acquired Code Club, "with the aim of putting a Code Club in every community in the UK and, ultimately, across the world".
[Source:- Thr Gurdian]