n any normal week, Ben Cooper's eye-catching and ambitious mission to make BBC Radio 1 like a Netflix for radio would make an ideal entry point to an interview with the station's controller. But this isn't any ordinary week.
On Friday, the BBC announced that Cooper would be getting a new boss, and a controversial one at that. From the end of this month James Purnell, the BBC's director of strategy and education, will be taking responsibility for radio as part of a new, expanded division. Purnell's long-rumoured appointment has been viewed in some quarters as problematic, with Tory MPs arguing that the former Labour cabinet minister could jeopardise the BBC's impartiality. On a practical level, there have been rumblings about Purnell's lack of hands-on programming experience.
So what does Cooper make of this huge management shift? And might he be interested in the role being advertised for a new director of radio within Purnell's team, to give "creative leadership and focus"?
It is hardly fair to put Cooper on the spot like that, but it had to be asked, and he plays the ultimate tight-lipped diplomat, refusing to make any direct comment, not even a stock PR platitude about regime change. "My focus is to bring new audiences and new ways to the BBC," he says.
The topic that gets Cooper talking is his relentless mission to make BBC Radio 1 a truly multi-platform business that keeps pace, and maintains relevance, with the digital-savvy youth audience it is tasked with targeting.
"I want Radio 1 to be the Netflix of music radio," he says, trundling out the catchy soundbite to back his latest plan: taking a leaf out of the hugely successful US streaming service's book by making programmes available on demand.
He is starting out with 25 hours of on-demand "phone-first" content, such as a weekly "Top 10 most-played tracks of the week" programme, but intends to seriously ramp up the hours next year. "In this job, you've got to keep across what young audiences are doing. They want content on whatever device they are using, increasingly the phone, when they want it, and that is the key for us to stay relevant and stay young."
In his five years in charge of BBC Radio 1 and 1Xtra, Cooper has supercharged its multi-platform presence. Major successes include the station's YouTube channel, which now has almost 3.5 million subscribers and more than 1bn views.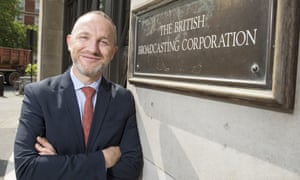 While BBC Radio 1 may be blooming nicely on new digital channels, Cooper remains under pressure to bring the age of listeners of BBC Radio 1 down. The target is 15- to 29-year-olds, the average is 32.
Meanwhile, shouldn't he be more worried about Nick Grimshaw? Earlier this year, the station's breakfast show audience reached its lowest level in more than 13 years. Grimshaw, who took over the coveted gig from Chris Moyles, is about to become older than the station's average listener. After four years of trying, is his use-by date looming?
"I'm not operating Logan's Run," quips Cooper, referring to the 1976 sci-fi film where people get systematically vaporised when they turn 30. "Grimmy was asked to do a job and it was a difficult job. Chris's job was to build the biggest audience he could, the most successful breakfast show Radio 1 ever had. The BBC Trust asked me to get Radio 1 younger so I brought in Nick to do that. Grimmy has come in and he is the No 1 youth presenter in the UK. He is knocking it out of the ballpark when it comes to connecting with young audiences on a daily basis."
Cooper has a real, and perhaps legitimate, bugbear with the measurement of his audience. For one, Rajar, the official body in charge of measuring radio audiences, only publishes figures on audience survey respondents aged 15 and over, which he feels is unfair. "You have a target age of 15 to 29, but nothing is measured for under-15s but everything is to death beyond the 29 target, which means, using averages, you are going to get skewed much older," he says. "I think it is an old-fashioned metric for an old radio industry. You have the maths against you."
The 46-year-old is armed with some statistics of his own to illustrate his point. Using figures based on those aged 10 and up, he reckons the most common age of a Radio 1 listener is 18. And for its YouTube channel it is 12- to 17-year-old females. "There is no holy grail of one single digital footprint figure in the industry unfortunately," he says.
With the BBC facing significant cuts across the board, after taking on the £750m cost of free TV licences for the over-75s, Cooper is acutely aware that life is going to get significantly harder.
"Cuts are coming," he says. "We will have to work with smaller budgets and be more creative in the way we structure ourselves and look for efficiencies. It is no secret that [already] over the last five years I have lost 30% of my controllable spend. That has been tough, I lost nine presenters a year ago. It's tough to innovate and take risks when you have to reduce budgets, your [presenter] lineup and staffing costs. It's not easy."
There is also the uncertainty created by the possibility of the merger of BBC Radio 1 and BBC3 into a new youth division. "I don't think there should be any merger of those brands but I think we can be more clever in the way we organise and structure ourselves behind the scenes," he says. "I'm trying to get people to think content first and platform second. The BBC should do more of that wider thinking."
That wider thinking also includes looking at a modern reinvention of Top of the Pops. Cooper insists the long-rumoured project is not a flight of fancy, but believes that the long-running TV music chart show's successor needs to be totally different. "Can we have a regular, weekly primetime slot for music? That's what I would love to see happen. Those conversations are continuing. I'm confident it will happen.
"TOTP is a great headline, a great story, but as a programme we have moved so far beyond that format, I think, in terms of what young audiences want. It can't be 'lets do TOTP' as it used to be."
Cooper talks innovation but Radio 1's rivals, and a report submitted to the culture secretary that informed this year's charter review white paper, accuse the station of not being distinctive enough. He bristles at the suggestion. "Are we distinctive from commercial radio? Yes we are," he says. "We will play something like 4,000 different tracks a month, commercial radio plays about 400. We need to play hit music to get audiences in to expose them to new music. I think we need to look at the fact that we are no longer competing just purely with Rajars against Capital and Kiss.
"I'm up against Pokémon Go and Minecraft for young audiences. I have to persuade people to switch off Minecraft and watch [Radio 1's music sessions slot] Live Lounge, get off their iPad and listen to radio. Those are the things that keep me up at night. I'm thinking about tomorrow, not today."
Age 46
Education South Bromsgrove high school, Worcestershire; University of Brighton
Career 1990 journalist and presenter, BBC Hereford & Worcester; 1995 journalist, presenter and producer, BBC Three Counties Radio; 1997 producer, BBC Radio 1;2000 executive producer, 95.8 Capital FM; 2002 head of daytime programmes, BBC Radio 1; 2006 head of programmes, BBC Radio 1; 2009 deputy controller, BBC Radio 1 and 1Xtra; 2011 controller, BBC Radio 1 and 1Xtra
[Source:- The Gurdian]